Well, so far this summer has been one of ups and downs (yes, I know life usually is, but for the most part my life is pretty monostatic... not a word, but let's roll with it), but I have to say right now the UPS are definitely winning out:
-successfully completed a month's worth of pilates + on Couch to 5K week 4, have not died yet! + eating better = lost 8 pounds of blubber!
-completed an interiors drawing course at Sheridan College and rocked it, of course
-GOT MY LICENSE finally finally finally and can now drive my own arse to wherever the hell I want to go and won't have to suffer cabin fever in the crazy-making winter months!
-POOL PARTIES POOL PARTIES POOL PARTIES POOL PARTIES... and BBQs!
The big news that is relevant here, however, is that I've finally worked up enough chutzpah to start my very own little etsy shop!: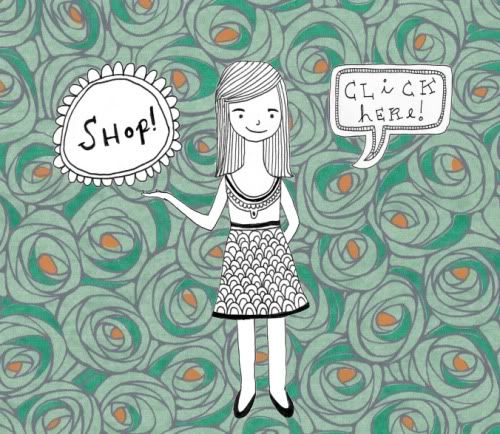 I'm starting off with a few prints of older illustrations (these are currently in the print shop), and I'll soon be branching out with newer illustrations, plus stationery, etc. For future use, there's a linked picture in the sidebar, or you could just bookmark me. As you can see, I don't have anything for sale yet, but I will soon enough so stay tuned!